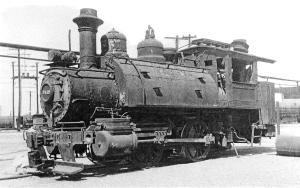 Santa Fe 0-4-0 #5 Little Buttercup began life in 1899 as an 0-4-0T built by the Baldwin Locomotive Works as Santa Fe Terminal #1, for operation on the Santa Fe trackage in San Francisco's China Basin. Built to burn oil, the locomotive carried its water supply in a large saddle tank which sat directly over the boiler (hence the 0-4-0 "T" designation.) After a few years it was renumbered into the Santa Fe system as #2419. In later years it served as the shop switcher at Needles,California and renumbered 9419 in 1945.

In 1948 the Santa Fe rebuilt the locomotive to an "old timey" appearance for historical display at the Chicago Railway Fair. The saddle tank was removed and a tender was added. To complete its new appearance, the locomotive received a large smokestack, headlight, bell, and a colorful paint scheme. It was named "Buttercup" after an early Santa Fe 4-4-0 steam locomotive from the 1880s.
After the Chicago fair the Santa Fe kept the locomotive for promotional purposes and occasional special events. It last operated under steam in the mid 1950s. Most of the time, it just remained in storage. In 1986 the Santa Fe presented the locomotive as part of a large historical collection to the California State Railroad Museum, with the expectation that the Santa Fe and the Southern Pacific Railroads were about to merge.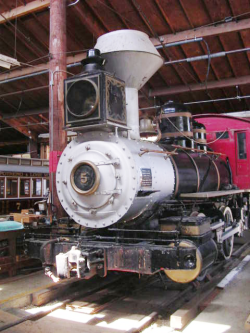 In April 2008, CSRM placed the engine on permanent loan to the California Trolley and Railroad Corporation for eventual display and use as a demonstration exhibit at the proposed San Jose Railroad Museum. Little Buttercup is currently displayed within CTRC's trolley barn at the San Jose Historical Museum.