In 1923, Southern Pacific received nine heavy 4-6-2 type from the Baldwin Locomotive Works. These locomotive, including 2479, were designated the P-10 model.
These locomotives were designed to pull such trains as the "Overland Limited" between Sparks, Nevada and Ogden, Utah, a total 568 miles without changing engines. Average speed was 35 mph including stops. This would require road speeds of about 60 mph.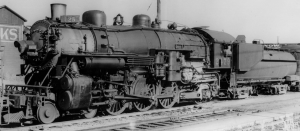 Performance proved most satisfactory and thereby set the basic design for all remaining Pacific's built for the S.P. The Pacific held many long distance assignments including the "Daylight Limited" between San Francisco and Los Angeles, the "Sunset Limited" between Los Angeles and El Paso and the Sparks to Ogden run.
As larger 4-8-2 class locomotives were assigned to these name trains, the 4-6-2 class were reassigned to local passenger runs between Sacramento and Oakland and the San Francisco to San Jose commute service. The 2479 ended its service on these routes. Only three SP 4-6-2 locomotives have been preserved.
In February 1937, disaster struck the 2479. Steaming at 70 mph as it approached Selma, California, the locomotive struck a car lodged on the tracks. The impact caused the locomotive, its tender and seven cars to derail. Although 2479 experienced heavy damage, it was rebuilt and served 19 years of passenger service before retiring in 1956 as steam locomotion technology was replaced with newer diesel locomotives.
Locomotive 2479 was donated and moved to the Santa Clara County fairgrounds in 1957.