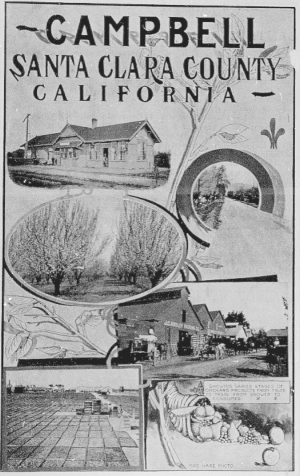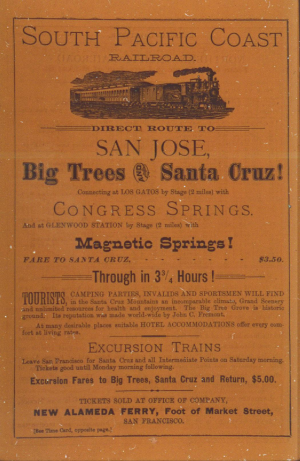 Railroads came to California very early.
And the Santa Clara Valley quickly became a rail hub for the San Francisco Bay area.
San Francisco is at the tip of a long peninsula surrounded by deep water that would not be bridged until the 1930's. The only way to get rails to San Francisco was to go around the south end of the bay - through the Santa Clara Valley.
The San Francisco Bay is surrounded by hills and mountains. There are only a few viable routes for railroads. Niles Canyon, leading to Altamont Pass and then to California's flat central valley is slightly to the north of the Santa Clara Valley. And only a few dozen flat miles north of Niles is Oakland and the rails to Port Costa and the rail ferries. Just to the south of Santa Clara is the Coyote Valley, leading towards the farms of Salinas Valley and the city of Monterey (the Spanish and Mexican capital of California), with the long flat valley of the Salinas River leading south towards Los Angeles. Southwest from Santa Clara are the Santa Cruz mountains - a source of much of the lumber used to build and then, after the 1906 earthquake, to rebuild San Francisco - and the (initially) narrow gauge road across them.
California became a State in 1850, and it was not long before the towns of Santa Clara and Guadalupe (later San Jose) became rail hubs.
Since January 1864 when the first passenger train arrived in San Jose, rail transportation has had a major impact upon the social and economic growth of the Santa Clara Valley.Image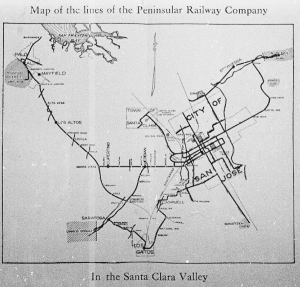 The San Francisco-San Jose commuter line is the oldest, continually-operated rail passenger corridor west of the Mississippi River. Steam railroads provided freight transportation to new markets. In response to the high cost of perishible shipments, the local canning industry developed providing a larger market for local fruit growers. From 1920 through 1960, rail transportation provided market access enabling the Santa Clara Valley to become the world's largest center for canned goods and fruit processing.
Electrified street railways began operation in San Jose in the 1890's. Several competing trolley lines crisscrossed downtown offering frequent service. Inter-city trolley operations were offering service to Los Gatos, Saratoga and eventually Palo Alto. The sounds and sights of trolley cars were a mainstay of our local scene until their discontinuance in 1937.
Rail freight transportation is no longer a requirement for our local technology-based economy; ironically, new products and enhancements which originate from our community will assist the rail industry in the new century. Products such as microprocessors and various internet connections enable contemporary railroads to communicate more efficiently thereby lowering the cost of freight transportation. In addition, local rail passenger service is increasing with new commute corridors and the expansion of the light rail system in response to rapid population growth.